2024 Vegetable Shares Are Now Available
We are no longer selling 2023 vegetable shares, however, we have opened up signups for our 2024 season!

Join Our Farm & Receive Our Vegetables
When you join our farm, you will receive deliveries of farm fresh, local, certified organic vegetables and herbs straight from our farm to you. Our vegetable shares are customized to your preferences, so you will only receive the vegetables and herbs that you like.
What is a CSA Share?
CSA stands for Community Supported Agriculture. With a pre-season payment, you purchase a CSA "share" of our summer and fall harvest of certified organic vegetables and herbs, thus becoming a shareholder.
"Just wanted to write a note to say how much I LOVE being a shareholder…I absolutely love that I am eating locally and seasonally, and enjoy feeling that I am in a small way a part of something."
     ~ Angelic Organics Shareholder Laura
You Can Customize Your Vegetable Share
Our vegetable shares are customizable, which means that you receive what you like, and you never have to receive what you don't like. Before every delivery, you have a customization window during which you can choose to receive what you want.
I just want you all to know how much I love being a part of this CSA, and I am immensely appreciative of all you do to give me such a rich experience of your food and your farm.
    ~ Angelic Organics Shareholder Sarah
What's in the Box?
Wondering what the contents of your vegetable share will be? Click here to learn more.
Angelic Organics Will Feed You and Connect You to the Earth
It is important to understand how our CSA program works; it is more than a seasonal supply of vegetables and herbs provided to you during the growing season. Our CSA program also gives you a relationship to the farm that grows your food–its weather, workers, soil, buildings, and equipment. By being a shareholder of our farm, you will enrich your relationship with the earth.
We're still finishing up our veggies from this season and I wanted to send a big thank you for feeding and nourishing us this year! I'm always so grateful, week after week. Getting fresh veggies is so life and joy-giving to me, and I relish reading the weekly farm news.
      ~ Angelic Organics Shareholder Katie
Don't worry–you won't be helping with the farm work. We just want you to take an interest in how the farm grows your vegetables.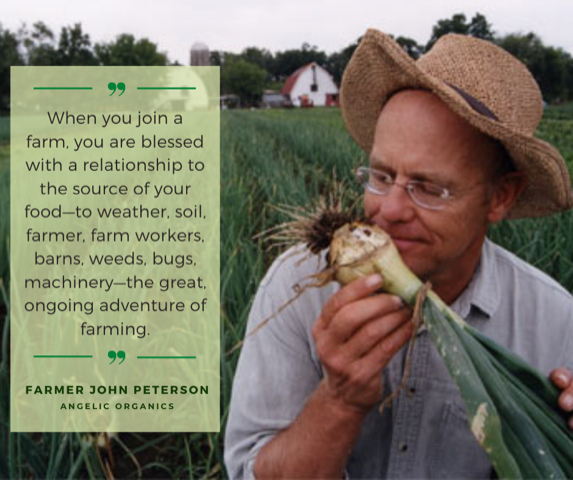 The Unfolding Season
Please know that as a CSA shareholder, you will be eating with the seasons.
If you are not already familiar with Community Supported Agriculture, please familiarize yourself at our page What is Community Supported Agriculture?
And everything, as usual, is delicious. Grown and packed with love.
    ~ Angelic Organics Shareholder Michele
Wondering Where We Deliver?
If you live in Chicagoland, we probably deliver to a pickup location near you. Click here to learn more about our pickup locations.
Home Delivery
You can now receive home delivery managed directly by our farm. Your deliveries will be made directly from our farm by our trained, courteous driver in a refrigerated van. Learn more about how our home delivery service works on our home delivery page.
Features
Customize your vegetable share by rating the vegetables we grow according to your preferences, or don't enter any vegetable preferences, and you'll receive a farmer's choice share

You have the option to adjust your box contents prior to each delivery

Leave out items you don't want; add in items you want

Buy extra vegetables and herbs from our farm

Reschedule your deliveries 

Change your delivery location 
We have enjoyed our boxes tremendously; it has been so helpful to customize, and also to know in advance what we are receiving. We are proud to be members of the Angelic Organics CSA, and I'm glad we signed up for 2020.
     ~ Angelic Organics Shareholder
Angelic Organics Vegetable Shares
We grow all of the vegetables and herbs in our vegetable shares on our organic farm in Caledonia, Illinois. Our vegetables and herbs are certified organic, and local to the Chicago and Rockford regions. We also farm using biodynamic methods.

Customized vegetable shares are available as either 20 weekly or 10 every-other-week deliveries, from early June through late October.

Both weekly and every-other-week vegetable shares are the same size 3/4 bushel box. (The fullness of your box depends on your vegetable and herb selections.)

Learn more about our vegetable shares here: What's In The Box?
We Would Love to Grow Your Vegetables and Herbs
We hope you will join our farm for a culinary adventure, a cultural experience, and a rich connection to the land.
 …the subscription price is so reasonable, especially compared to what you'd pay for the same sub-par, tasteless produce that traveled 1,000s of miles at the grocery store.
    ~ Google Review
Thank You for Your Interest in Angelic Organics
We know that people today are being offered many alternatives to the CSA model. However, only Community Supported Agriculture can bond you to an individual farm for you to know and cherish. Our mission is to provide you not just with food, but also with a farm that you can hold in your heart.
Still Undecided about Purchasing a 2023 CSA Share? Learn Even More.
The more you learn about our farm and Community Supported Agriculture, the more informed you will be about whether to join our farm. The following are more ways upon which to base your decision.
Feature documentary film about Angelic Organics, The Real Dirt on Farmer John, fifty years in the making, winner of 31 festival awards. Learn about your farm and your farmer from the comfort of your home.
Read past issues of Farm News
More than 40 community delivery sites throughout Chicagoland
Home delivery to many zip codes in Chicagoland
A popular free Farm Field Day–kids love these!

Free U-pick garden of flowers, herbs and beans

In business since 1990

Managed by Farmer John, who has 60 years of farming experience on the same farm

Great long-term fertility program which enhances carbon sequestration

USDA certified organic

Ample infrastructure and machinery to accommodate most weather woes

Check us out on Facebook
I love this CSA! Always fresh produce, great value for your money, and lots of convenient pick up locations throughout Chicago.
     ~ Yelp Review
Why Join Our Farm?
There are numerous ways that you can receive your vegetables and herbs today. Explore the many reasons why you will benefit from being a shareholder of Angelic Organics here: Why Join Our Farm?
Angelic Organics CSA or Meal Kit Delivery?
We offer many features unavailable with meal kits. Learn more about these features at Angelic Organics CSA or a Meal Kit Service?
"We love love love this CSA! We've been members of many before, including in the Central Valley of California, and Angelic is the best."
     ~ Google Review
"Angelic Organics equals excellence. We have been season shareholders for years — and hosted a delivery site for many of those years. The boxes are filled with a delicious and fresh variety of produce week after week. I honestly cannot recall receiving a box that did not delight me. You can eat with confidence that your food grew in healthy soil, tended by people who care about feeding people now and keeping the farm viable well into the future. I really cannot say enough nice things about this farm. Try it!"
  ~ Yelp Review